Fella's on Union - Breakfast, Lunch and Later, and Backyard BBQ
Fella's on Union - The Grill - Burgers & Sandwiches
Fella's on Union - Fish Tacos (comes in chicken and pork too)
Fella's on Union - Pear Ginger Turnovers (daily selection of baked goods)
Fella's on Union - Just steps away from the ferry
Fella's specializes in clambakes and barbeques
Fella's Take Out serving breakfast, lunch, and dinner
Fella's Salsa and BBQ Sauce
Previous
Next
Fella's on Union
Breakfast (8-11am)
Breakfast Sandwiches, Omelettes...
Lunch & Later
Soups, Sandwiches, Paninis, Tacos...
Backyard Barbeque
Chicken, Ribs, Pulled Pork w/ all the fixings...
View Menu
Fella's Take Out
Breakfast
Baked goods, Breakfast sandwiches...
Lunch & Dinner
Sandwiches, Paninis, Salads, Chili, Soups...
Pizza
Specialty pizzas, Create your own, Slices...
A Little About Us...
Fella and Jane Cecilio began their business as caterers in 1984. Fella had run restaurants for many years and Jane's experience was in human resources & they thought doing Clambakes on the beach would be fun! The business quickly grew and they began offering full service catering for both casual and formal events. They've taken much pride in the many events they've catered for so many of the celebrities, presidents and first ladies. But more important to them was the relationships established over the years with their customers and their families. Each and every job was catered with their full attention to quality and detail no matter who the customer!
In 2005, with children getting ready to head off to college soon they expanded the business and opened Fella's Takeout in West Tisbury. In 2015 they opened Fella's on Union and decided to scale down the catering services.
Life is very busy now operating the two cafes but Jane & Fella will continue to offer some of their catering services. They've decided it would be fun to go back to where it all began and cater casual Clambakes and Barbeques on the beach or your backyard. They will offer catering from 40 guests to 500 guests. And just as in the last 30 plus years, each & every job will get their complete attention to quality and detail.
What's more fun then a Clambake or Barbeque Vineyard Style!!
You can reach Jane at 508-693-1572 to discuss your party in detail!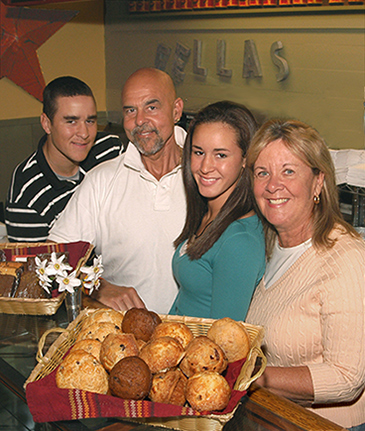 Fella, Jane, Michael & Kate - 2005